Selected by our experts
Reductions up to -40%
Delivery €5.90
Free returns
Cork warranty
Selected by our experts
Reductions up to -40%
Delivery €5.90
Free returns
Cork warranty
Echte meeldauw (Oïdium) bij druiven
Posted on

October 28, 2014 14:59

by
Men merkt dat de druiven stokken aangetast zijn door echte meeldauw als de bladeren en trossen een witgrijs schimmelpluis vertonen. Het is alsof er men een wit poeder opgespoten heeft.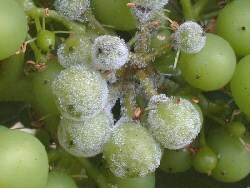 De symptomen van Oïdium kunnen verward worden met die van valse meeldauw (Mildiou). Bij echte meeldauw zit de schimmel op de bovenzijde van het blad en barsten de druiven open, gevolgd door bladverdorring en bladval. De gevoeligheid van het druivenras is de belangrijkste oorzaak! Planten in een slechte algemene gezondheidstoestand zijn er ook heel gevoelig aan.
Meeldauw komt het meeste voor tussen einde mei en september. Bij langdurig vochtig weer en zware regenval is er een sterke schimmelverbreiding.
De schimmel overwintert in de knoppen van de druif of op het oude hout, waar kleine gele of zwarte vlekjes op te zien zijn.
Men kan het voorkomen door regelmatig de okselscheuten (de dieven in de volksmond genoemd) weg te snoeien. Hierdoor kan de wind goed door de druivenstruik waaien en zorgen voor sanitair gezonde druiven. Ook het beperken van mest rijk aan stikstof maakt dat de druivenstokken minder vatbaar zijn. Om het te bestrijden wordt zwavel in verstuiving gebruikt.