Selected by our experts
Reductions up to -40%
Delivery €5.90
Free returns
Cork warranty
Selected by our experts
Reductions up to -40%
Delivery €5.90
Free returns
Cork warranty
Aperitif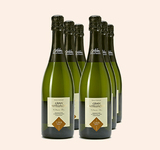 Gran Castellflorit
Cava • Cava at a superior level
Covides Viñedos covers more than 2.300 hectares of vineyards spread over 50 municipalities in El Penedès, from Gélida to El Vendrell. This great variety of vineyards allows them to make wines and cavas of excellent quality. This Brut Cava is made by a selection of the best grapes, a well-cared production process, secondary fermentation and subsequent ageing in cellars at Sant Sadurní d'Anoia. A great cava!
Roualet-Desbordes Champagne Brut
Champagne AOC • Attractive and fresh aperitif Champagne
Champagne house, headed since the late 17th century by the family Autréau situated at Champilly. Varieties, Pinot Meunier and Pinot Noir come from vineyards with a 1er Cru status and give an authentic champagne, dry, powerful, full of freshness and at a very attractive price. 18 months of bottle ageing "sur lattes" in the cellars. Composed of 40% Pinot Noir, Pinot Meunier 40% and 20% Chardonnay.
Cuvée Royale Brut, Joseph Perrier
Champagne AOC • Our tasting committee was impressed by its purity
Maison Joseph Perrier is a small family company founded in 1825 by Joseph Perrier. They can enjoy a beautiful location for storing bottles: the chalk quarries (crayères) dating back to Roman times. Over 20 different wines were used in the composition of this wine, whose vineyards are located in Cumières, Damery, Hautvillers and Verneuil. Aging is 3 years on lees. The Cuvee name Royale is achieved by the fact that the house was supplier of the Crown in England for Queen Victoria and King Eduard VII.