Selected by our experts
Reductions up to -40%
Delivery €5.90
Free returns
Cork warranty
Selected by our experts
Reductions up to -40%
Delivery €5.90
Free returns
Cork warranty
Hoe open je een fles wijn?
Posted on

September 23, 2014 08:48

by
Bij het openen van een fles wijn moet je rekening houden met een aantal praktische punten. Belangrijk is uiteraard dat je de kurk er in 1 stuk uitkrijgt. Dit heeft natuurlijk geen enkel belang voor flessen met een draaistop. Even draaien en de fles is open. Voor de Oostenrijkse flessen met een glazen Vinolock hoef je ook geen kurkentrekker boven te halen. Gewoon ook even een knik geven en de fles is open.
Verwijder steeds de folie rondom de hals van de fles. Je gebruikt hiervoor het mesje van de kurkentrekker. Je snijdt rond de hals van de fles, mooi onder de rand, in de folie. Geef voldoende druk en je kan gemakkelijk de folie verwijderen door een verticaal sneetje te maken tot aan de bovenkant van de wijnfles. Het is belangrijk dat de wijn bij het schenken niet in contact komt met deze folie want deze kan in sommige gevallen nog lood bevatten. Je kan eventueel een drupring of een dropstop gebruiken om dit contact volledig uit te sluiten.
Je kiest best een automatische of een handmatige kurkentrekker.
Bij een automatische wijnopener hoef je gewoon de instructies te volgen en kan je de fles op een handige manier zeer snel openen. Nadeel is wel dat ze beschadigde of oude kurken soms helemaal niet uit de fles krijgen.
Bij een handmatige kurkentrekker zet je de fles rechtop een vlakke onderlaag. Je plaatst de punt van de kurkentrekker mooi in het midden van de kurk, je boort een klein gaatje en je brengt hem zo diep mogelijk in de kurk zodat je een stevige greep op de kurk krijgt. Afhankelijk van het model trek je dan op de aangewezen manier de kurk uit de fles. Maak steeds de rand van de fles even proper met een mooie propere doek of een stukje keukenpapier zodat geen vuile restjes in het glas of de fles kunnen belanden. Er bestaan hiervoor ook speciale borsteltjes.
Tweetraps kurkentrekker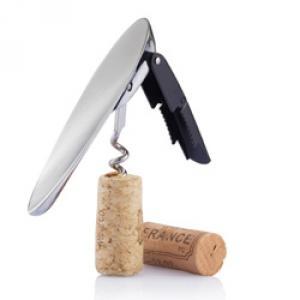 Hierbij kan je de kurk in twee stappen uittrekken door eerst een het kortste stuk van de kurkentrekker te gebruiken en dan de langere helft. De kurk komt er op deze manier gemakkelijk uit.
Screwpull zakmodel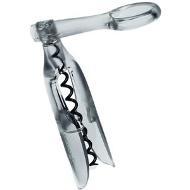 Dit is wellicht de gemakkelijkste kurkentrekker. Je draait gewoon de kurkentrekker in de kurk en draait hem er met de omgekeerde draaibeweging terug uit.
Bilame
Heel geschikt om moeilijke kurken of oude kurken te verwijderen. De beide benen van de kurkentrekker schuif je voorzichtig langs de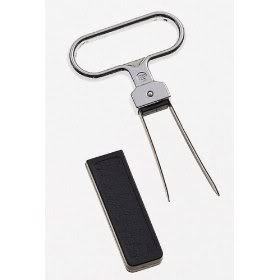 naar beneden met een beweging van de ene kant naar de andere kant. Daarna haal je de kurk eruit met een draaibeweging.binnenkant van de fles
Automatische kurkentrekker