Selected by our experts
Reductions up to -40%
Delivery €5.90
Free returns
Cork warranty
Selected by our experts
Reductions up to -40%
Delivery €5.90
Free returns
Cork warranty
De verticale degustatie
Posted on

September 2, 2014 14:32

by
Dit is een ongelooflijk interessante vorm van degusteren, ook voor beginnende proevers. Uiteraard gaat het niet om de houding waarin de proevers zich bevinden gezien dit in onze tijden over het algemeen verticaal is. Alhoewel, als we de geschiedenisboeken er op naslaan, dit ooit anders geweest was. De Romeinen aten en dronken half liggend in een gebouw dat het Triclinum genoemd werd. Maar goed de Romeinen deden ook wel minder fraaie dingen tijdens en na de maaltijd, dus slaan we dit hoofdstuk maar snel over.
Bij een verticale degustatie gaan we wijnen proeven van hetzelfde domein maar in diverse jaargangen. Uiteraard proef je ook altijd dezelfde cuvée indien het domein diverse wijnen zou maken. Het is alsof je in de tijdmachine stapt en een reis naar het verleden in de wijngaard maakt. Een absoluut voorrecht dat je slechts maar met heel weinig producten kan doen, maar waar wijn zich absoluut toe leent.
Een verticale degustatie is bijzonder leerrijk want je leert heel wat bij over de mogelijkheden van veroudering van wijnen van het domein, over de kwaliteiten van de diverse jaargangen, over de evolutie in techniek op het domein, de evolutie van aroma's en smaken.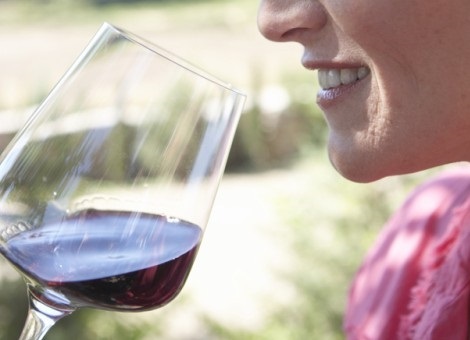 Uiteraard hebben veel elementen, kleine en grote invloeden op elke jaargang. Beginnend uiteraard met de klimatologische omstandigheden (temperatuur, hagel, veel of weinig regen, nachtelijke temperaturen die fris zijn of warm blijven, veel of weinig wind…) maar ook problemen met ziektes in de wijngaard, nieuwe technieken vanaf een bepaalde jaargang, overstap naar biologische technieken, nieuwe klonen in de wijngaard, nieuw materiaal in de wijnkelder, een nieuwe keldermeester…het kleinste verschil in al deze factoren kan een wereld van verschil maken in het uiteindelijke resultaat dat in je glas terecht komt.
Het is meestal wel een vrij dure degustatie want je moet natuurlijk oudere wijnen uit kelders kunnen halen. Tenzij je beschikt over iemand met een mooie wijnkelder die bepaalde domeinen elk jaar volgt want anders moet je beroep doen op handelaars of wijnantiquairs. En deze laatste rekenen natuurlijk wel wat meer voor een ouder flesje. Maar eens je de eerste maal verknocht geraakt bent aan de verticale degustatie zal je al gauw naar een volgende verlangen.
Bij een wijnclub kan je natuurlijk ook beroep doen op de wijnbouwer zelf, meestal hebben ze voor dit soort degustaties wel wat flessen in reserve en komen ze in sommige gevallen voor grotere groepen dit zelf ook toelichten. Dit is natuurlijk fantastisch want zij voegen bij alle objectieve
Wat bijzonder leuk kan zijn is dat je tevens je zoekmachine opstart en per jaar gaat kijken wat de voornaamste gebeurtenissen dat jaar waren, zo voeg je een stukje extra cultuur toe aan je proefavond. Het wordt een echte reis in de tijd. gegevens per jaargang ook hun persoonlijke anekdotes toe.
Je kan op drie manieren proeven. Het meest klassieke is van jong naar oud. De redenering hierachter is dat je zo de evolutie zeer goed kan volgen van een jonge naar een oude wijn. Het nadeel is wel eventueel dat de jonge wijnen vrij sterk in smaak zijn en een sterke tanninestructuur hebben waardoor ze misschien de smaak van de oudere wijnen die erop volgen een stukje gaan wegvegen. Maar je kan zonder bezwaar ook de omgekeerde weg volgen en starten bij de oudste wijnen en zo naar jong evolueren. De wijnen worden dan stilaan krachtiger.
Een derde mogelijkheid, maar die wordt voorbehouden voor ervaren proevers, is de wijnen te proeven volgens hun smaakstructuur. De fijnste wijnen met de minste kracht worden eerst geproefd en zo evolueert men verder naar die met de sterkste smaak. Dit hoeft niet steeds de jongste wijn te zijn want ook elke jaargang heeft zijn kenmerken. Er zijn jaargangen met veel concentratie en tannines, maar ook jaargangen met elegante fruitige wijnen.
In ieder geval is deze reis in de wijn-tijdmachine een heel interessante en instructieve belevenis die je smaakpapillen de kans geven om zich volledig te ontwikkelen.