Selected by our experts
Reductions up to -40%
Delivery €5.90
Free returns
Cork warranty
Selected by our experts
Reductions up to -40%
Delivery €5.90
Free returns
Cork warranty
Buy Wine? Give Water!
For each bottle of wine purchased, UpperWine is committed to providing 20 liters of drinking water
Some statistics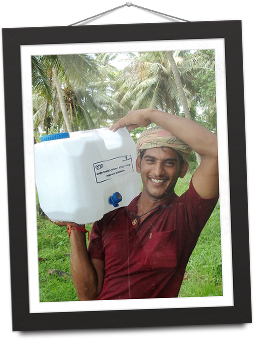 L'idée / background
En 2001 un des fondateurs de UpperWine travaille deux mois dans les bidonvilles de Calcutta en Inde. Cette expérience très forte dans les mouroirs et au contact de gens qui peuvent donner plus que ce qu'ils ont, reste un fait marquant dans sa vie.
Quelques années plus tard son passage aux Etats-Unis lui fait découvrir les concepts de Corporate Social Responsibility (CSR). Dès leur lancement de jeunes startup incluent en effet un impact sociétal dans leur business modèle. Un très bel exemple.
L'idée germe donc petit à petit de combiner l'entrepreneuriat à un impact social durable. Même si c'est à une petite échelle pour commencer, l'équipe UpperWine est convaincue que les petits ruisseaux font les grandes rivières.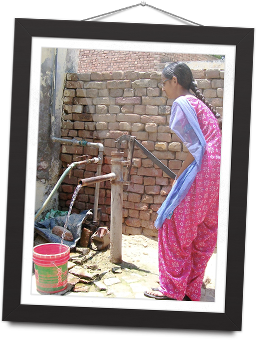 Le choix d'E Health Point
E Health Point fournit l'accès à l'eau potable et aux soins de santé aux familles pauvres dans les villages en Inde. Ce concept, reconnu et ayant gagné de nombreux prix <website>, a le potentiel de transformer le bien-être, la productivité et la qualité de vie.
Convaincu de l'impact local, UpperWine soutient le projet de rendre l'eau potable plus accessible. Construire un puit coûte en effet 12.000$ et ceci n'inclut même pas l'entretien.
Pour responsabiliser les villageois ces services ne sont pas offerts. Dans ce même esprit UpperWine n'offre pas l'intégralité des services mais participe à l'effort des familles les plus démunies.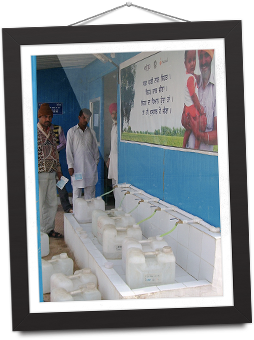 Quelques statistiques sur l'eau
Quelques chiffres valent parfois plus que de longs discours.
Un bain moyennement rempli équivaut à 100 litres

Le taux de mortalité enfantine est multiplié par 10 à 20 dans les régions avec peu d'accès à l'eau potable

88% de toutes les maladies ont pour origine une consommation d'eau non potable, des installations sanitaires inadéquates et une mauvaise hygiène. Source : Water Partners International.

Le temps perdu à chercher de l'eau potable sur de longues distances réduit la présence des enfants à l'école, la productivité des femmes et l'éducation que celles-ci pourraient donner à leurs enfants. Source : UNICEF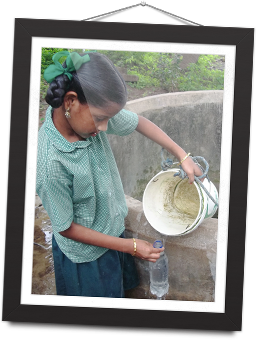 Votre contribution
Il ne faut pas être un grand mathématicien pour comprendre les calculs suivants.
Une famille pauvre de 5 personnes a besoin d'un jerrycan de 20 litres d'eau potable par jour pour augmenter sensiblement sa qualité de vie. Avec cette quantité la famille peut boire, préparer à manger, se laver et laver vêtements et domicile.
1 bouteille achetée sur UpperWine = 20 litres offerts
une caisse de 6 bouteilles = 120 litres offerts
5 caisses de 6 bouteilles = 600 litres offerts = 1 mois d'eau pour une famille de 5