Selected by our experts
Reductions up to -40%
Delivery €5.90
Free returns
Cork warranty
Selected by our experts
Reductions up to -40%
Delivery €5.90
Free returns
Cork warranty
Is CapSeal het ultieme wondermiddel tegen vervalste flessen?
Posted on

September 2, 2014 14:45

by
Bij dure flessen worden nogal eens vervalsingen aangetroffen op de markt, zelfs zo vergaand dat er "authentieke flessen" opduiken van sommige domeinen in oude jaargangen die nooit gemaakt werden! Een heel vervelende zaak voor producenten en consumenten. Deze laatsten willen er uiteraard 100 % zeker van zijn dat de fles die ze kopen echt is en nooit geopend werd.
Inside Secure (specialist in beveiligingsmodules die functioneren op smartphones) en Selinko (specialist in de identificatie van voorwerpen) hebben de handen samengeslagen en CapSeal ontwikkeld.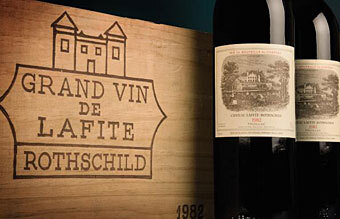 Met dit systeem kan de consument controleren of in de capsule of het etiket zit een kleine chip die kan gelezen worden door de applicatie. Deze slimme chip weet zelfs of een fles geopend werd of niet. Vervalsingen maar ook vervalste hervullingen kunnen op deze manier onmiddellijk ontdekt worden. Het aanbrengen van de chip gebeurt op hetzelfde moment van de etikettering van de flessen. Het systeem kan toegepast worden op alle bestaande soorten capsules.de fles authentiek is en of ze nooit open geweest is. Een smartphone met een downloadbare applicatie volstaat.
Als je weet dat ongeveer 20 % van de geproduceerde wijn in de wereld vervalsingen zijn en dit getal zelfs oploopt tot 50 % in de Aziatische markten voor grote Bordeaux wijnen, versta je onmiddellijk waarom producenten gelukkig zijn met deze nieuwe identificatiemodules. Ook bij sterke alcohol (dure whisky, rum en cognac bv) komt tot 25 % vervalsingen voor.
Een lege fles Château Lafite Rotschild, premier grand cru classé, wordt in China verkocht aan 450 dollars! Om nadien de vals gevulde fles terug te kunnen verkopen aan een meervoud van deze prijs.
Mooi om te weten is dat Selinko een Belgisch bedrijf is. Waren we in België reeds de beste producenten van kunstkurken, waren we de voornaamste leverancier van staaldraad (Bekaert) om de capsule vast te zetten op champagneflessen (en andere schuimwijnen), dan kunnen we nu weer een primeur op ons actief schrijven. Leuk toch!